CEO Steps Down After Being Diagnosed with Early Onset Alzheimer's Disease
Posted Tue, Sep 22nd, 2020

CEO of IGM Financial Steps Down After Being Diagnosed with Early Onset Alzheimer's Disease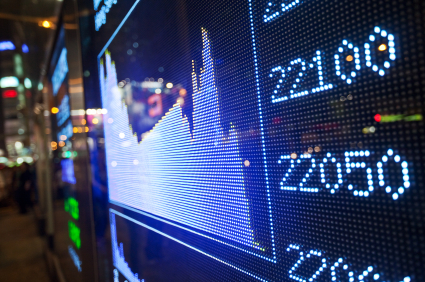 It was recently announced that Jeff Carney, CEO of IGM Financial Inc, will step down immediately after a diagnosis of early onset Alzheimer's disease. The 57-year-old executive has led the asset management firm since 2016. Located in Winnipeg, the firm has roughly $173 billion under asset management. Mr. Carney was previously president and Chief Executive Officer of Mackenzie Financial Corporation and Co-President and Chief Executive Officer of IGM Financial Inc. Mr. Carney's annual salary was reportedly CAD $7.2 million.
To read the full story, click here. 
How can you protect your client's key player? See the below for the insurance solution.
Investors invest in a particular fund based largely on performance, which is attributed to the CEO. In the event of a serious disability, such as in the case of Mr. Carney, cash would be needed to retrain key staff, find a replacement, and manage any winding down of the fund as a result of the unfortunate news.
Risk managers need to evaluate the risk to key personnel and c-suite executives by looking at how they are leveraged against the success of the company.
What is the potential impact should they not be able to perform their duties. Ask yourself: If that person left in the middle of the night, who could successfully run the company? And what would be the cost to replace that person from outside if there were no one in place in-house?
As Lloyd's of London Coverholders, Exceptional Risk Advisors specializes in writing high limit key person disability for private and public organizations. Benefit limits for key person protection are available in excess of $100 million per person and are most commonly purchased in conjunction with a large life insurance transaction.
Click Here to Learn More About Key Person Disability Coverage
Contact us to discuss how we can help protect your exceptional clientele.
---
Featured Case Study
Accidental Death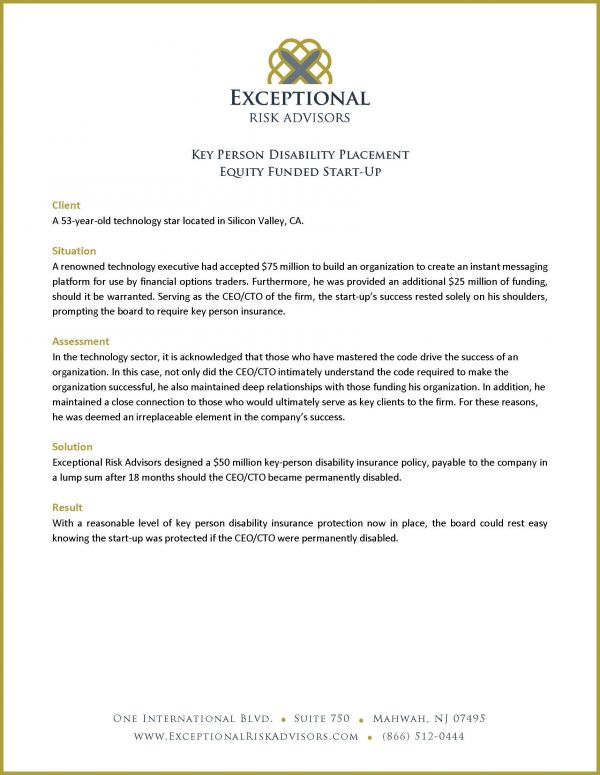 This month we'd like to share a case study from the specialty life side of our business. In this case, a widower and single business owner sells his business for $125M and creates an immediate need for coverage to protect his heir's newly established estate tax liability. Due to the client's upcoming travel schedule, the client's family office recommended considering an Accidental Death policy to hedge the tax liability to the client's estate while traditional whole life insurance was being completed. Check out the case study to read about the insurance solution that was developed.
Click here to read the full case study
Please feel welcome to share this newsletter & case study with colleagues and your centers of influence.