Chris Lack
Managing Partner

Edward A. Tafaro
Partner

Laura Muka
Managing Partner & COO

Frank Zuccarello
Managing Partner

Matthew Ferraro
Partner

Joseph Ferraro
Partner

Ken Slaton
Vice President Underwriting, International Benefits

Sean McNiff
Vice President of Business Development & Marketing

Henry A. Tafaro
Executive Vice President
Chris Lack
Managing Partner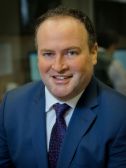 Chris Lack leads Exceptional Risk Advisors' Sports and Entertainment Insurance Division and is responsible for working closely with the executive team to guide the company and develop new business for all product lines. Chris' expertise revolves around designing cutting edge insurance solutions for high profile risks that traditional life and disability carriers are unable to deliver. Chris' ability to consistently exceed our clients' expectations, while never losing focus on underwriting integrity, has garnered him a reputation as a leader in the special risk insurance marketplace.
Prior to joining Exceptional Risk Advisors in 2011, Chris consulted for Hanleigh, a Crump Company in New Jersey and served as Assistant Vice President of Sports and Business Development for William J. Sutton in Toronto. With a passion for Sports, Executive and Entertainment risk mitigation, he is a valuable addition to our team of specialty insurance experts.
Chris received a Bachelor of Commerce degree from the University of Guelph, in Ontario, Canada. Chris and his wife Stacy, along with their four children reside in Ridgewood, NJ. In his spare time, Chris enjoys traveling, history, and golf.
Download Chris' recently published article on NBA Endorsement Deals