Jeremy Renner Hospitalized After Snow Plow Accident
Posted Wed, Mar 22nd, 2023

Jeremy Renner Hospitalized After Snow Plow Accident
Earlier this year, Hollywood A-List Actor, Jeremy Renner, was air lifted to a hospital following a freak snow plow accident. The 52-year-old award winning actor who broke over 30 bones and suffered blunt chest trauma has a long road to recovery, but remains optimistic. Most famously known for his roles in The Avengers and The Hurt Locker, Renner has a reported net worth of around $80 million.
Read the full story here.
How can you protect your clients? See below for the insurance solution.
---
High Limit Disability Income Protection
Jeremy Renner's ability to act in movies and perform in many action packed scenes is essential to his earning an income. Very often entertainers wait to put insurance in place to protect their future earnings against bodily harm, which can often happen off of the studio premises - as was the case with Renner. Entertainers present unique challenges to U.S. disability carriers as their earnings history is often riddled with volatility, and they consistently present a compressed career that limits the time they earn the bulk of their income. For these reasons, Lloyd's of London and the excess lines market are the primary sources to obtain Disability Income Protection for Entertainers.
As Lloyd's of London Coverholders, Exceptional Risk Advisors designs and underwrites High Limit Income Protection policies for entertainers as well as the stars in all industries, like business owners, hedge fund managers, renowned surgeons, and attorneys
Click Here to Learn More About High Limit Disability
Check out our recently published article written by Frank Zuccarello & Chris Lack, Protecting Your Top Clients During Their Window of Opportunity. The article, published in ROUGH NOTES magazine, points out that disability does happen to entertainers, athletes, and to those superstars in the corporate world - always when it's least expected. If it does happen, and suddenly your client is out of work during their key earning years, it's going to wreak havoc on their lifestyle
Contact us to discuss how we can help protect your exceptional clientele.
---
Featured Case Study
High Limit Disability Protection
Actress & Singer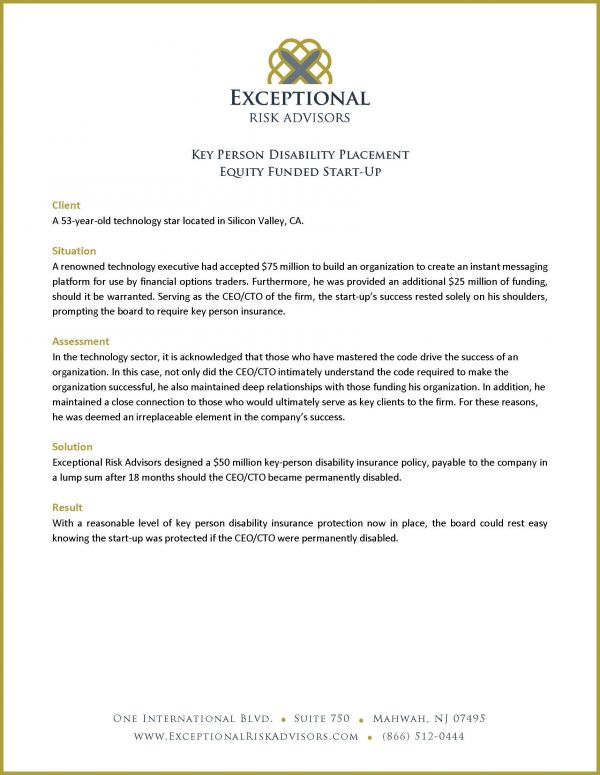 In this case, we were working with an advisor who approached us with a classic Lloyd's request. The advisor was looking to insure an entertainer client's future income on significant up and coming projects. We recognize not everyone has access to entertainers, however, if you're currently working with a high-income earner who is a star in their own field, it is very likely they have an exceptional income exposure.
Check out the case study to read about the insurance solution that was developed.
Click here to read the full case study
Please feel welcome to share this newsletter & case study with colleagues and your centers of influence.