Founder & CEO of Fitness Organization Takes Time Off to Undergo Aggressive Cancer Treatments
Posted Tue, Dec 22nd, 2020

Founder & CEO of Fitness Organization Takes Time Off to Undergo Aggressive Cancer Treatments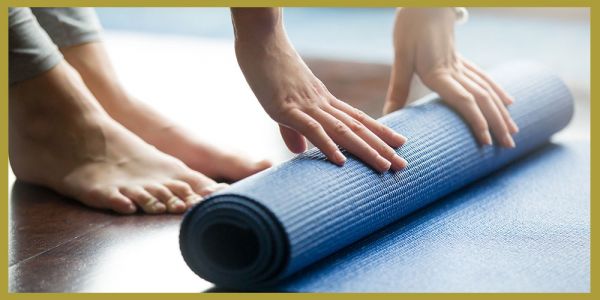 Amy Jordan, the 45-year-old Founder & CEO of WundaBar Pilates, a fitness and wellness organization with studios in New York City and Southern California, took some significant time away from her organization to undergo aggressive treatments to combat a rare form of cervical cancer. The fitness firm founded in 2011 was reportedly estimated at $5 million in revenue.
To read about Jordan's treatment, experience and road to recovery, check out the full story here. 
Key Person Disability Insurance & Personal Income Protection
For your corporate clients and prospects whose organizations rely on it's human capital for growth, it is wise that a company-owned key person disability policy is considered to protect the organization from the financial losses of a key executive becoming disabled. As advisors, you should ask: If that person left in the middle of the night, who could successfully run the company? And what would be the cost to replace that person from outside if there were no one in place in-house?
Secondarily, young and high earning entrepreneurs like Amy Jordan who have a minimum of 20 years left in their career, are faced with a personal financial risk to their family's future generational wealth - loss of income due to a serious illness or injury. To help illustrate, let's assume Jordan earns $650,000/year, the income exposure for the next 20 years is over $13 million (not including salary increases or bonuses!). What physical asset does your client own that is worth $13 million and isn't fully insured?
As a Lloyd's of London Coverholder, Exceptional Risk Advisors designs, underwrites and delivers high limit key person disability for organizations and personal income protection for individuals. Learn more about these two exceptional insurance solutions: Key Person Disability & Personal Income Protection
BONUS Read: Key Person Disability Placement of Equity Funded Start-Up
Contact us to discuss how we can help protect your exceptional clientele.
---
Featured Case Study
Contractual Performance Indemnity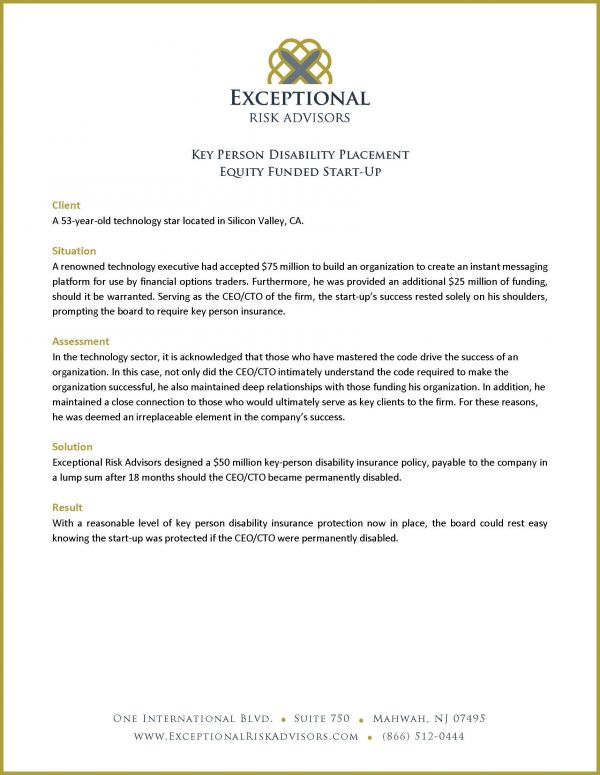 We'd like to share an atypical case study of ours on a contractual performance indemnity of a bank loan requirement. In this case, the client put down $1 million for the purchase of a $7 million G7 jet and didn't want to wait the 30+ days for the traditional life insurance coverage required by the lender to be in place before flying in it. The advisor on the case was tasked with securing $6 million of life insurance in 4 business days to fulfill a bank loan requirement. Check out the case study to read about the insurance solution that was developed.
Click here to read the full case study
Please feel welcome to share this newsletter & case study with colleagues and your centers of influence.