CEO of Match Group Steps Down Citing Health Reasons
Posted Thu, Feb 20th, 2020

CEO of Match Group, Mandy Ginsberg, Steps Down
The CEO of Match Group, Mandy Ginsberg, recently announced her departure due to personal and health reasons, including cancer-related surgery. Since August 2017, the 50-year-old CEO and Director, has steered the internet company to it's current 1,500 employees and boasts a current $23 billion valuation. Match Group, which owns Match.com, Tinder, OKCupid, appointed Shar Dubey as CEO. Ms. Ginsberg annual income was reportedly over $2.5 million.
Read the full story here. 
See below for the insurance solution.
Personal Income Protection
Benefit Limits Exceeding $500,000/Month
High earning executives, like Mandy Ginsberg, who are in their peak earning years are faced with a personal financial risk to their family's future generational wealth, loss of income due to an illness or disability. High limit disability income protection is most often utilized to supplement an individual's US disability insurance coverage to provide adequate protection for high income earners. This type of coverage typically provides an "own occupation" definition of disability.
As a Lloyd's of London Coverholder, Exceptional Risk Advisors provides High Limit Disability Income solutions for high earning executives and professionals, successful entrepreneurs, attorneys and consultants.
Click Here to Learn More About Personal Income Protection
Contact us to discuss how we can help protect your exceptional clientele.
---
Featured Case Study
Permanent Total Disability Policy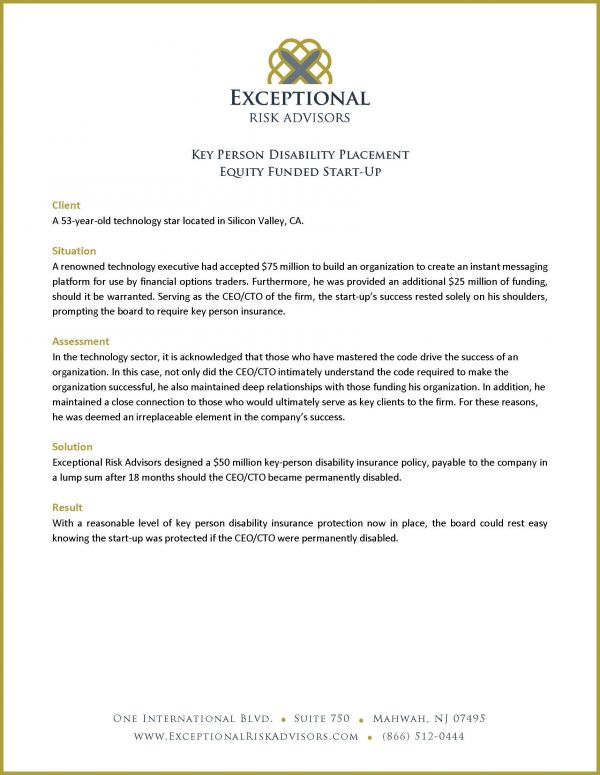 In this case, the player was approaching free agency and his biggest paycheck to date. To protect himself and his future income, he needed an insurance policy in place before he hit the field in the fall. Check out the case study to read about the insurance solution that was developed.
Click here to read the full case study
Please feel welcome to share this newsletter & case study with colleagues and your centers of influence.