Chopped Chef
Risk Management Magazine (RIMS)

Posted Mon, Mar 10th, 2014 Risk Management Magazine By Ted Tafaro and Frank Zuccarello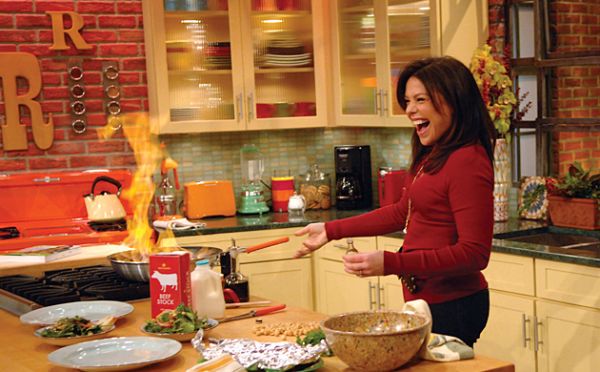 If you are a Baby Boomer, you probably remember the cooking show The French Chef. Filmed live and uncut, you could hear the pots and pans bang, oven doors squeak, and chef Julia Child's singsong patter about life in the kitchen. It wasn't terribly exciting, but Child became a pop-culture icon and was in many ways the first true celebrity chef.
But somewhere along the way that tiny kitchen on Julia Child's low-budget set became "Kitchen Stadium" on Food Network's popular Iron Chef series. It became a place where chefs enter a culinary arena like gourmet gladiators, accompanied by blaring music, blinding lights that could illuminate an airport runway and the almost surreal sight of a man hoisting a $100,000 camera on his back while zooming in on the perfect close-up of a stick of butter melting in a frying pan.
Today's celebrity chefs are treated like rock stars because they get paid like rock stars, led by Gordon Ramsay and his empire of restaurants, TV shows, cookbooks and endorsements worth a reported $38 million last year. But what happens if a celebrity chef is injured and can no longer perform? After all, the kitchen is a pretty dangerous place; knives are sharp, pans are hot, floors are slippery. Plus, with television there is the added element of a ticking clock. In the time it might take you or me to read through a cookbook to even find a six-course meal to prepare, these gourmet geniuses are already plating.
If a high-profile celebrity chef is knocked out of the culinary game for a period of time, how does that affect his or her income? And how does it affect the overall "brand" and the businesses that rely on their name?
Even if their namesakes are laid up with an injury, Rachael Ray's books will still be available on Amazon, Paula Deen's cookware will still be on sale at Wal-Mart, and Emeril Lagasse's jars of salsa will still go through the 12 items or less aisle at the supermarket. But for how long? Out of sight is out of mind in today's fast-paced marketing world.
If Wolfgang Puck slices his hand carving a duck and cannot cook, it won't affect his hundreds of restaurants immediately. But if an injury is severe and permanent, the consequences are sure to be devastating. Most foodies know that Puck is not personally throwing a tossed salad in the air in the kitchen at each of his restaurants' locations, but they still flock to his establishments to savor the cuisine he has created. If he is no longer involved in the important aspects of the business, customers may find other options.
Coverage Ingredients
Investors and corporate risk managers generally recognize how dependent these franchises are on the brand of their celebrity chefs. Their response is often to secure large blocks of key person life insurance to protect against an untimely death. But many often ignore the greater risk of injury and forgo disability coverage, which may be a mistake if you realize that replacing these individuals is not as easy as calling up a recruiting agency.
This is why Martha Stewart Living Omnimedia, for example, publicly discloses its dependency on Martha Stewart and Emeril Lagasse (the company bought the rights to certain Emeril-related holdings for $50 million in 2008). "The loss of either of their services could adversely affect our revenues, results of operations and our ability to maintain or generate a consumer base," states the risk factors section of the company's 2011 10K disclosure. In regards to the company's stake in Emeril's brand, the filing states that "the continued value of these assets would be materially adversely affected if Mr. Lagasse were to lose popularity with the public or be unable to participate in our business, forcing us potentially to write-down a significant amount of the value we paid for these assets."
For this reason, key person life and key person disability insurance must be procured in order to protect the company, the employees, the shareholders and the board of directors. Production and merchandising partners need similar protection as well. This insurance is typically available through traditional life markets.
Chefs also can obtain coverage as a form of personal protection. This was the case for one high-profile celebrity chef in his mid-40s who was updating his financial plan when his new wealth advisor noticed that he failed to maintain disability income protection. With an annual income north of $2 million, the chef wanted to be able to maintain his lifestyle in the event of a disability. A policy was structured with a 90-day waiting period, followed by $100,000 per month of tax-free disability benefits. Coverage was underwritten protecting losses from both accident and illness utilizing a specific occupation policy form that covered the insured if he could not be an "on-air" personality. In all, nearly $15 million of future income was protected at a cost of around $40,000 annually.
In other cases, investors in the chef's businesses can drive the insurance purchase. For example, a new restaurant chain bearing the name of its celebrity chef and part-owner was heavily financed by an outside pool of investors. While the investors knew that financial success depended on a number of factors, the one that was irreplaceable was their executive chef whose name was on the door. As a caveat to the financing arrangement, the capital providers required both life and disability protection be placed on the chef. In all, nearly $5 million of death and disability was procured at a combined rate of roughly 0.9% of the face amount.
Accidents and illnesses can happen. You only need to look at the headlines to see the risks. Alton Brown–a chef who is a known aviation and motorcycle enthusiast–broke his collar bone after crashing a motorcycle while filming an episode of Feasting on Asphalt for Food Network. A few years earlier, he shattered his wrist, an injury that required eight screws and a titanium plate to repair and took months of recovery and rehabilitation before he could resume filming. Paula Deen, who is well known for cooking rich Southern cuisine, revealed earlier in the year that she was diagnosed with type 2 diabetes. And in May, Gordon Ramsay had to be carried off the field on a stretcher after an injury sustained during a charity soccer game.
The risk also applies to the lower-profile chefs of the world. When any executive chef has the potential to impact the immediate business of the restaurants they are directly linked to, particularly those where they can be found in the kitchen perfecting their dishes, similar protection is often needed.
Compared to the Jamie Olivers of the world, these chefs–Marcus Samuelsson and Alfred Portale in New York, Ludo Lefebvre and Eric Greenspan in Los Angeles, Jasper White and Ming Tsai in Boston–may merely seem like big fish in little ponds. But the impact they have on their restaurants, many of which carry their name, and the influence they have on attracting investors to those restaurants, cannot be understated. If these chefs suffer a serious injury and can no longer perform their duties, there is the definite potential for a business to be negatively affected.
In scenarios like this, key person life and disability insurance is often needed to either reorganize and replace a fallen chef, or simply wind down a venture in the event of death or a catastrophic disability. In one transaction involving such a chef, life insurance was in place, but the insurer was asked to design and underwrite a policy that would cover the "overhead" for a 12-month period so that decisions could be made if their well-known chef was injured. A policy was structured with a 30-day elimination period paying up to $35,000 per month for a maximum payout of one year, giving the restaurant time to either retool or exit, depending on the owner's desire.
Preventing Indigestion
The value of making sure a restaurant or brand can continue to thrive if an executive chef can no longer perform is now big business. And it is only getting bigger as competitive cooking shows like Iron Chef, Top Chef and Hell's Kitchen promise to spawn new superstars that have strong brand crossover. Through the power of television, chefs have ascended to a lofty perch once inhabited only by CEOs, rock stars, actors and athletes.
So, if you are invested in the physical well-being of a chef and your heart drops every time Anthony Bourdain jumps out of a plane eating raw seal, or when Paula Deen whips up another shortening-filled dish, perhaps it makes sense to be sure there is a contingency plan in place. Otherwise, you may be faced with a financial disaster that will be hard to swallow. Now that's food for thought.