CEO Killed in Moscow Runway Crash
Posted Fri, Oct 24th, 2014 ABC News


   October 2014 | Phone: 866.512.0444
---
CEO Killed After Plane Crashes with Drunk Snowplow Driver

Christophe de Margerie, the CEO who helped construct Total SA, one of the world's biggest multinational oil companies, was killed at a Moscow airport earlier this week when his private jet collided with a snowplow whose driver was reportedly drunk.

This tragic accident powerfully underscores the importance of key person life and disability planning.

     
---

INSURANCE SOLUTION
Accidental Death and Accident Only Disability Protection
Benefit Limits Available in excess $100,000,000 per person
Private and corporate aviation have inherent risk when placing a key C-Suite executive, or multiple C-Suite executives aboard an aircraft. While many advisors utilize life insurance as a solution to mitigate the risks associated with the loss of key executives, corporations and the ultra-affluent need to be particularly advised – effective and easy to place coverage exists! High limit Accidental Death & Accident Only Disability protection offers a quick solution that can be bound using a non-invasive underwriting process, provides 24 hour worldwide coverage, and does not exclude piloting, to provide protection from the loss of a key person during their travels. Accidental Death can also provide an effective "stop gap" coverage when a busy executives and high net worth individuals live a lifestyle that prohibits the ability to undertake the life underwriting process.

Exceptional Risk Advisors, a Managing General Underwriter for Lloyd's of London, binds such coverage for insurance advisors who require access to markets that are willing to support exceptional risks, deploy meaningful capacity, and do so on a real time basis. This coverage can be bound in excess of $100M on any one person within 24-48 hours.

Call Us Today
866.512.0444
Looking for EXCEPTIONAL sales ideas!?
Check out www.ExceptionalRiskAdvisors.com
---
SECURING KEY PERSON COVERAGE IN WAR RISK ZONES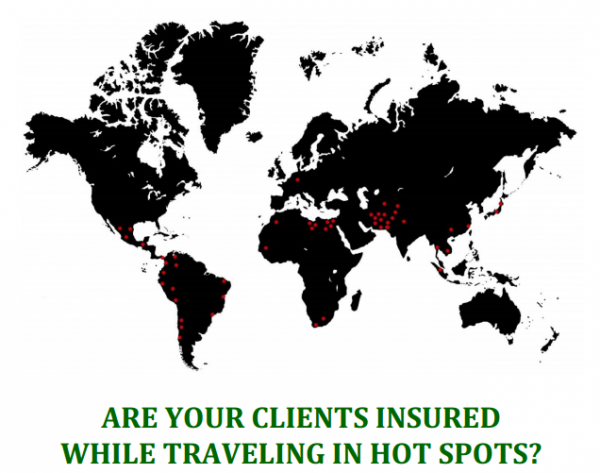 ---