American Owned, Associated Press, Loses One in First Known Insider Shooting of Journalists
Posted Tue, Apr 15th, 2014 New York Post


  April 2014 | Phone: 866.512.0444
---
American Owned, Associated Press, Loses One in First Known Insider Shooting of Journalists.

Friday April 4th, on the eve of Afghanistan's presidential elections, Anja Niedringhaus and Kathy Gannon were traveling among a protected Afghan convoy when a police commander opened fire on the Associated Press journalists. Niedringhaus was confirmed dead by medical officials in the city Khost; Gannon, injured by two shots, underwent a successful surgery.

An AP Freelancer, whom was in the same car, recalled the tragic moments: The shooter walked up to the car yelled "Allahu Akbar" - God is Great - and fired on the back seat where Niedringhaus and Gannon were ; he then surrendered and was arrested by other police.

This heartrending loss to the journalistic community powerfully underscores the importance of key person life and disability planning.





---

  INSURANCE SOLUTION
Accidental Death and Accident Only Disability Protection
Benefit Limits Available in excess $100,000,000 per person
Obtaining life insurance for individuals traveling to war risk zones certainly falls into the category of an Exceptional Risk. As Lloyd's of London Coverholders, Exceptional Risk Advisors has the ability to design and implement unique programs for corporations and individuals whose travel schedules leave them uninsurable in traditional life and disability markets.
Accidental Death Dismemberment & Disability policies are often used as short term solution to protect clients with concerning travel. Policies can run from 1 day to 3 years, offering 24/7 life and disability insurance anywhere in the world, with policy benefits amounts exceeding $100M per person.
Call Us Today
866.512.0444
Looking for EXCEPTIONAL sales ideas!?
Check out www.ExceptionalRiskAdvisors.com
---
SECURING KEY PERSON COVERAGE IN WAR RISK ZONES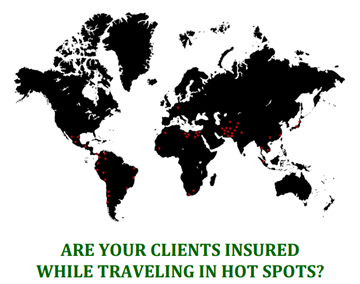 ---